HOME EQUITY HAS HIT A RECORD HIGH.
As home prices continue their rapid rise, many Americans are sitting on a pile of equity in their homes.  Homeowners with mortgages gained $2.9 trillion in equity in the second quarter of 2021, a 29.3% year-over-year increase, according to a new report by CoreLogic.  This marks an average gain of $51,500 per borrower since the second quarter of 2020.⁠
⁠The states with the greatest average year-over-year equity gain per borrower include the very hot Western markets of California, Washington, Hawaii, Idaho, Utah and Arizona, with the greatest equity gains being recorded in California ($116,000 per borrower). ⁠
Meanwhile, mortgage rates have jumped in the days since the Federal Reserve announced late last month that it would scale back its buying of mortgage-backed securities and Treasury bonds.
Debt Service Coverage Ratio: No-Income Mortgage Loans
Griffin Funding offers DSCR (debt service coverage ratio) loans at a ratio as low as .75 to allow you to qualify on the cash flow of the property only, and we even have no-ratio DSCR loans where the DSCR isn't taken into account for vacant properties that have yet to be rented out. Since the majority of real estate investors typically flip homes quickly or use rental income to repay the mortgages of their investment properties, these loans exclude investors from the rules of repayment that are typically required.  No tax returns or your personal income is required. We look at:  Credit score, rental income, appraisal (to ensure you have at least 20% equity), and verification it's to be used as a rental property and not primary residence.
See an example of this type of loan in action HERE.
GET YOUR REAL ESTATE REPORT CARD
With this powerful tool you can see important information regarding the health of a specific address's real estate market.  Some of the amazing features of this report are:
Affordability Index, Median Home Price, Historical Appreciation, Forecasted Appreciation, and Much more!
Griffin Funding Review Highlight: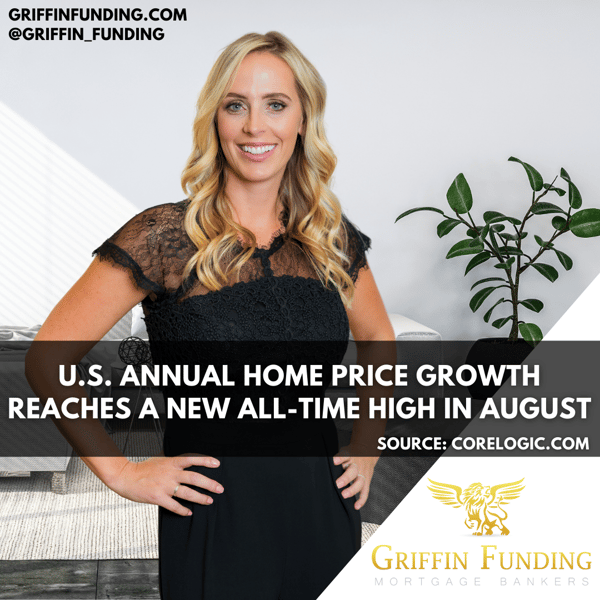 The 12-month rise in U.S. Home Price Index reached a record-setting 18.1% in August, the highest in the 45-year history of the index.⁠  Ongoing affordability challenges within the supply-constricted market have also been exacerbated by an influx in homebuying activity from investors. ⁠  At the state level, Idaho and Arizona again led the way with the strongest price growth at 32.2% and 29.5%, respectively.⁠  Griffin Funding is licensed in 14 states across the nation, and growing! We can help you take advantage of all the equity in your home! Contact us today if you have any questions!⁠
CONNECT WITH US ON SOCIAL MEDIA FOR THE LATEST MORTGAGE UPDATES!⁠